Hard Bargain has been performing a wide range of blues and soul, with the fat R&B grooves of the '60s and beyond. The band is now featuring powerful and soulful lead singer Billy Valentin. The band's music includes covers, remakes and some originals, with material from such artists as Bobby Bland, Freddie King, Little Milton, Johnnie Taylor, Rufus Thomas and other blues and soul originators, as well as modern blues artists like Coco Montoya, Tommy Castro and Taj Mahal.

The group began in the mid '90s as Natural Causes, founded by guitarist Alan Grossinger. Next came Arthur Canady on lead vocals; then new millenium brought the addition of bassist Michael Cohen and saxophonist Rafik Cezanne. In 2000, the name was changed to Hard Bargain. Ron Duncan joined on drums and vocals a few years later making the band the most powerful soul band around. Eric Williams is trumpeter extraordinaire and manages horn chart duties. In 2009 HB welcomed Billy Valentine as new lead singer and guitarist, with Rich Paganello on keyboards, and "Jersey Dave" Falcone still kickin it on slide guitar like nobody's business!

Today, Hard Bargain is a soul powerhouse, described by industry fans as "the real deal," and one of NYC's finest R&B bands.

Hard Bargain has been active on the New York music scene for over 11 years, performing at the Bitter End, Kenny's Castaways, Le Bar Bat, The Roxy, the famous Cotton Club, Stanhope House and many other venues throughout the NY-NJ area. In 2002, after releasing their debut CD, Hard Bargain played for a packed Blues 2000&2 Festival in the Catskills. The band released their second CD in early 2006. Since then, the group has played north and south of the Mason-Dixon, and continues wowing audiences in the Northeast.


The debut CD has sold in 20 countries and across the U.S., and is still available at CD Baby and iTunes. Hard Bargain's release, "More Than You Bargained For," includes new originals by the group as well as Grammy nominees Jon & Sally Tiven, who have written and produced for Robert Cray, B.B. King, and the late Little Milton and Wilson Pickett. Hard Bargain music is available at CD Baby, iTunes and most ther online sources.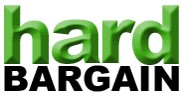 Billy Valentin, lead vocals & guitar
Michael "thebassguy" Cohen, bass/vocals
Dave Falcone, lead guitars

Rafik Cezanne, tenor sax
Ron Duncan, drums/vocals
Eric Williams, trumpet
Rich Paganello, keyboards