A BLUES and R&B POWERHOUSE!
Based in New York City, Hard Bargain plays remakes of material originally recorded by:
Otis Redding, Buddy Guy, Clarence Carter, Little Milton, Albert King, Robert Cray, Delbert McClinton, B.B. King, Graham Parker, Jimi Hendrix, Taj Mahal, John Mayall, Allman Bros, Johnny Taylor and many others, as well as some fine originals.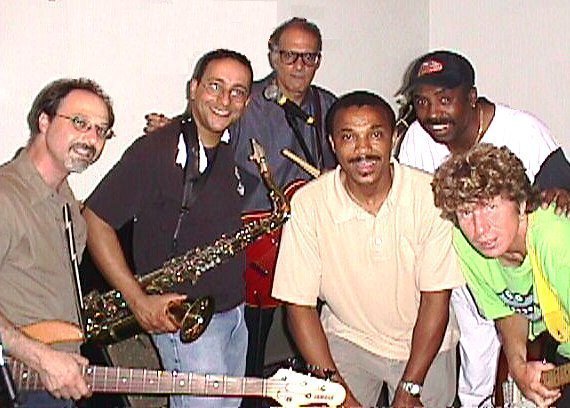 When it comes to soulful blues vocals, Arthur is the King, combined with thebassguy's hard drivin' bottom end, superb guitar work from Bill Wright and Alan Grossinger, steamrollin' drummer Big Ron Duncan, and supersax action by Rafik Cezanne, Hard Bargain has become one of New York's finest new blues acts!
The band is available for club work, corporate parties, retirement parties, benefit concerts, festivals. . .
*new streamlined Hard Bargain site here!

---
---

the CD!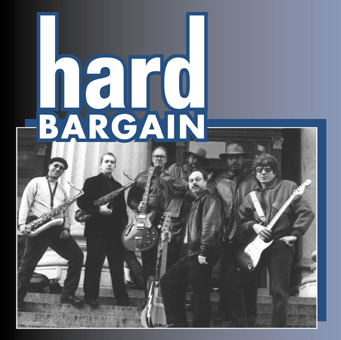 New debut CD available NOW !
The new CD features all 11 recordings by Hard Bargain.
BUY ONE at CDBaby.com

RECENT SHOWS:
Great shows at the ROXY & THE COTTON CLUB IN MAY!
PLUS
Le BAR BAT - PHOTOS!
&
the Bitter End - PHOTOS!
---
---
Upcoming LIVE SHOWS:
LE BAR BAT NYC, 7/27
LE BAR BAT
NYC, 8/16
BLUES 2000 & 2 Festival, Ellenville, NY 9/13
---
---

READ REVIEWS
from garageband.com users
HERE!
If you're interested in hiring us,
or if you're producing a big music festival,
we'll send one RIGHT AWAY, no charge! email Hard Bargain asap.
CD's available at CDBaby.com! Here's some photos of us at work!
BAND PHOTO SECTION


Hard Bargain recordings voted
TRACK-OF-THE-DAY 5 times in less than a YEAR!
Why? READ THE REVIEWS ABOVE AND FIND OUT!


---
HARD BARGAIN new classics:


MORE BLUES THAN I CAN USE
(mp3)
by Michael Cohen A HARD BARGAIN ORIGINAL
(c) 1999 M.Cohen - thebassguyRecords
---

IT'S MY TIME (mp3) by Arthur Canady A HARD BARGAIN ORIGINAL
(c) 2002 A. Canady
---

634-5789 (mp3) Vocals by Ron Duncan
---

Room 244(mp3) by Little Milton


Track-of-the-Day on Jan. 11, 2002! No longer available at garageband.com

---

I Wouldn't Treat a Dog(mp3) by Bobby "Blue" Bland


Chosen to be Blues Track-of-the-Day at garageband.com on 11/27/01.
No longer available at garageband.com

---

Pretty Woman Blues(mp3) by Lattie Moore


Featured as Track of the Day on 7/6/01.
---

Worried Life Blues (mp3) by Maceo Merriweather


No longer available at garageband.com, but was the highest ranked song ever achieved there by Hard Bargain and thebassguy! At one time was #44 out of over 50,000 songs in all categories, and was #5 in the Blues category, out of about thousands of songs! MUST BE GOOD! Featured on 2/6/01 as Blues Track-of-the-Day.

---

Tramp(wma)
by Lowell Fulson, also recorded by Otis Redding


On 11/8/01, "Tramp" was Track of the Day!
---
Other Demos:


Givin' It Up For Your Love


Watchdog


Somethin' On Your Mind


Them Changes



Arthur Canady-Lead Vocals
Michael Cohen-Bass, Vocals
Alan Grossinger-Rhythm Guitar, Vocals
Bill Wright-Lead Guitar
Rafik Cezanne-Sax
Eric Mullins - Sax
Rafael Carasquillo - Keyboards
Ron Duncan-Drums, Vocals
SEE US IN ACTION HERE!
(with new flash intro!)

---
Other HARD BARGAIN Sites:
IUMA - Cornerband - ArtistLaunch - AudioSurge
Rafik's Hard Bargain Page


CLICK THE ARROW TO RETURN TO thebassguy's Music Shtuff page